We are a family business born out of a love for fly fishing and a passion for design. We produce premium accessories that are beautiful, useful and eco-friendly. We provide the anglers with products that are aligned with both their values and needs on the water.

In an effort to contribute to the saving of our environment, we have chosen to stay away from plastics and toxic finishes. Instead of silicone and foam, we use amadou as hook strips in our fly boxes. Not only does this look beautiful, the amadou dries your flies when you put them back in the box. We use food grade waxes and linseed oil instead of varnishes and lacquers.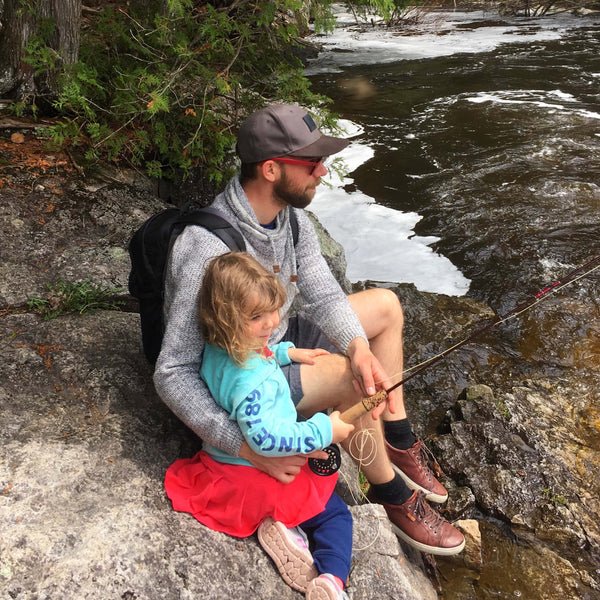 David-Alexandre Chabot - Founder
David-Alexandre Chabot was born in Quebec's Eastern Townships. His love for fishing started at a young age, when he and his brothers would spend hours throwing worms at whatever would bite.
His passion for fly fishing was ignited, when he caught his very first trout using a fly he had tied the night before. More and more fascinated with the sport with each passing day, but unable to find quality fly fishing products that were responsibly made, he was moved to create Timber&Fins. We are committed to crafting heirloom quality fly fishing gear that enhances your fishing experience and that can be passed down from one generation to the next.
FLYLORDS.COM
" If you have a dedicated fly tying room or maybe you just really like the finer things, check out the beautiful leather fly tying mats and goods from Timber and Fins."
CLICKPAWL.COM
"He's a master at crafting fly fishing products that are practical, well designed, and eco-friendly."
THE FIBERGLASS MANIFESTO
 "The Wanderer Wallet with the waterproof Field Notes booklet is kinda genius... "
OUR TEAM
Our core values are very important to us. Respect for the environment and the fisheries are an integral part of who we are and we are proud to have our Ambassadors, Pro Staff and Pro Tying member promote those values as well.
Learn about these passionate fly anglers and fly tyers below.